So yeah here's to randomeness
Jonny's Guitar Rig and effects
Nice board Jonny!!! :D Jonny calls his board his Pandora's Box. ;)
I am so crazy I swear.... O___o
Tomislav has a nice board too. I always photograph his when I get the chance at shows.
Tomo's Board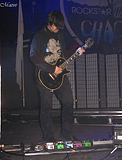 EDIT: Did a search for Tomo on Guitar-Rigs, They have him listed but they don't have his stuff there except A Les Paul shown for his guitar but nothing of his gear board etc. O.o They have a place where you can fill in all the info if you know it but I don't know it. I think it is on the Mars Forum some where.
And they have the wrong photo. They have a photo of Tim instead of Tomo. O_______O
So I am sitting here talking in the Mars Kyte chat and listening to Coldplay and listening to all the guitar effects Jonny's making on guitar wondering how he does all that, that has always fascinated me the sounds you can do on guitar with all those peddles and things. And so I have this random thought to google 'Jonny's guitar effects' and actually got a link to a list of them and his gitfiddles to boot and a photo of his board even!
Current Music:

Warning Sign/ Coldplay