I want two of them already
Lots of Jonny on guitar and slide action in this one. ;)
http://www.youtube.com/watch?v=NwWurWdDEGY
Another great version. Sound quality really clear on this one. Well worth the listen. I love the opening guitar riffs being playing in this one by Jonny of course. Love how Chris dances around with the guitar. So full of joy. And some more Jonny on slide action. Their both so precious.
Well you know its always about the guitars with me. ;)
http://www.youtube.com/watch?v=q1rV3eNcVlQ
My Coldplay song of the week it seems. Hauntingly beautiful song.


June 9, 1915 - August 13,2009

Thanks for the guitars and music. :D
Rest in Peace Les Paul.
http://croatianwguitar.livejournal.com/48708.html
)
I had made a remark in the comment about having to learn Bm. He emailed me back with a video on doing it without Bm!! Can we say heyull yesh?!
So you capo in the second position and the do Am instead.
It's like my prayers have been answered. :D Hopa!
I am estatic!!!
Of course that is no excuse for not dealing with and learning bar chords still. :-/ LOL so I still need to get jiggy with that.
So here is the Vid for Green Eyes with Am instead of Bm. Which in the case Am stands for Absolutely Magnificent. ;)
Quite a beautiful rendition as well. The guy is remarkable. ;) He does it beautifully.
http://www.youtube.com/watch?v=Zzp2aF6otGM
Feels like Christmas :) LOL
~~~Maevey xo
So I had commented on the video of the guy (ShanCarballow) who had done the instructional video for doing Green Eyes on guitar on youtube. (in previous post:
Hhhmm, I have a sneaking suspicion Chris must have wrote that song for Jonny, seeing how much those two boys love each other, esp. Chris loving Jonny like he does. ;)
The song:
http://www.youtube.com/watch?v=gmyq9tIiu8g&feature=related
Found some Utube vids on teaching you how to do it. They are pretty helpful. I am sure there are more but I tagged these two for this post
Two instructionals I found.
http://www.youtube.com/watch?v=__TcoMASUw4
This guy gives all the chords and does a good job with it. Its looks really fun to play. focus on the guitar playing focus on the guitar playing
http://www.youtube.com/watch?v=FOWxhbi7M1k
But yeah anyway all over that Bm betch. That really sounds pathetic though at this point the game with me and the guitar. I should have conquered this by now. But I will be patient with myself and forgive myself for that.
Chose a new song to learn on guitar...I have fallen in love with the song Green Eyes by Coldplay. It's really easy save the Bm chord. I need to get off my arse and learn it. I want to learn this on bad enough that I am determined to get that done. But Oh its a Betch!! I have put off learning Bm a while and just avoiding any movable chords as much as I can. But I need to get on that. But I thought the same of F back in the day. So my next song on guitar is Green Eyes. Its such a beautiful little song. It just makes me so happy when I hear it. Lifts my spirits up!
Current Mood:

cheerful

Current Music:

Green Eyes/Coldplay
So yeah here's to randomeness
Jonny's Guitar Rig and effects
Nice board Jonny!!! :D Jonny calls his board his Pandora's Box. ;)
I am so crazy I swear.... O___o
Tomislav has a nice board too. I always photograph his when I get the chance at shows.
Tomo's Board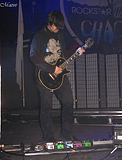 EDIT: Did a search for Tomo on Guitar-Rigs, They have him listed but they don't have his stuff there except A Les Paul shown for his guitar but nothing of his gear board etc. O.o They have a place where you can fill in all the info if you know it but I don't know it. I think it is on the Mars Forum some where.
And they have the wrong photo. They have a photo of Tim instead of Tomo. O_______O
So I am sitting here talking in the Mars Kyte chat and listening to Coldplay and listening to all the guitar effects Jonny's making on guitar wondering how he does all that, that has always fascinated me the sounds you can do on guitar with all those peddles and things. And so I have this random thought to google 'Jonny's guitar effects' and actually got a link to a list of them and his gitfiddles to boot and a photo of his board even!
Current Music:

Warning Sign/ Coldplay